Bedstock geht in die dritte Runde. In diesem Jahr spielen Moby, Tegan and Sara, Norah Jones und viele andere Songs in ihren Betten für Kinder, die, wegen ihrer Erkrankung, an ihre Betten gefesselt sind. Hier könnt ihr die Videos ansehen.
Bedstock ist ein Online-Musikfestival, welches es schon seit 2013 gibt. Künstler singen, spielen und lesen in ihren Betten für das MyMusicRx-Programm der Children's Cancer Association (CCA). MyMusicRx hat sich zum Ziel gesetzt, Kindern und Teenagern, die an Krebs oder anderen schweren Leiden erkrankt sind, den Stress, die Angst und die Schmerzen, mittels Musik zu lindern.
Um diesem Programm und den Kindern mehr Aufmerksamkeit zu verleihen, spielen und lesen auch in diesem Jahr, genauer gesagt, gestern, am 29.11. wieder etliche Künstler in ihren Betten. Das Festival in diesem Jahr ist "Bigger and Bedder", mit Acts wie Moby, Norah Jones, Panic! At the Disco, Tegan and Sara, Jack Johnson, Alessia Cara, Warpaint, Skylar Grey, Colin Meloy von The Decemberists (der aus Dr. Seuss' Buch The Sneetches liest), der großartigen Kimya Dawson und vielen vielen anderen.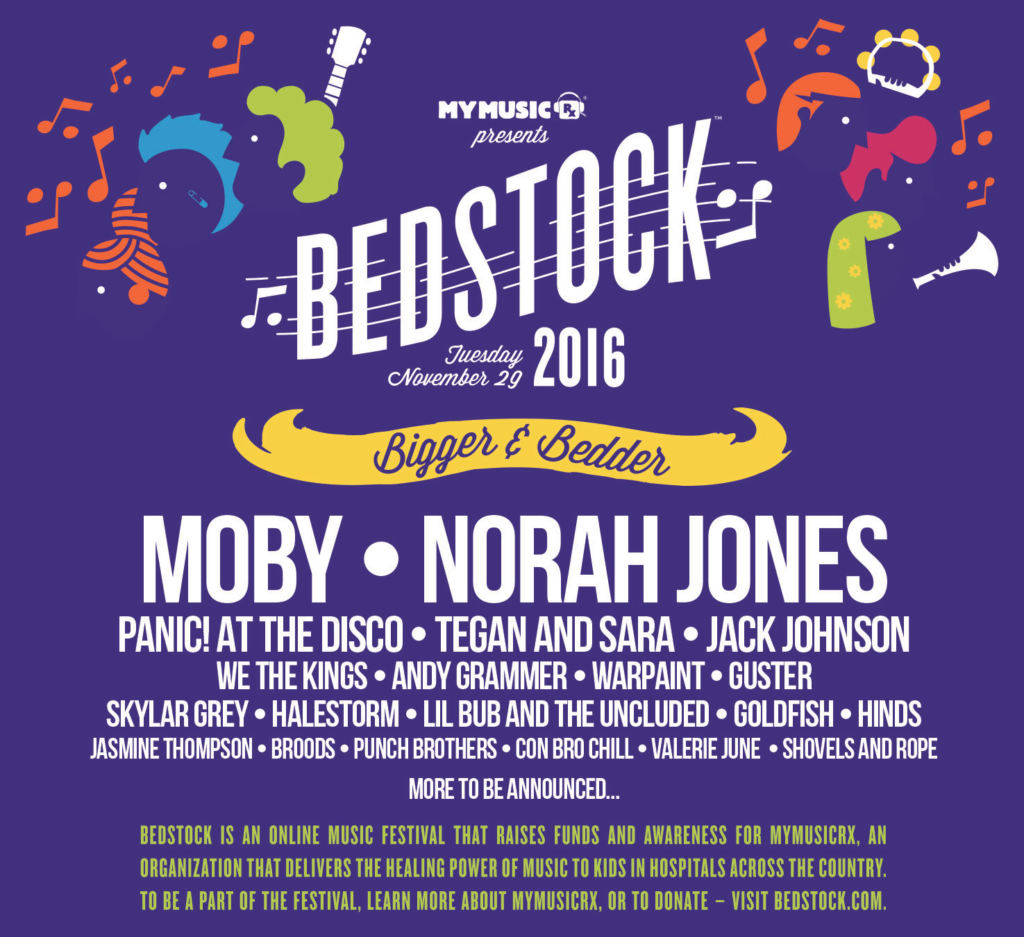 Und auch wenn das Programm bisher nur für die USA konzipiert ist, ist es in jedem Fall eine tolle Sache und jeder, der den Kindern etwas Gutes tun möchte kann hier auf der Webseite des Festivals spenden.
Tegan and Sara – "Closer"
Moby feat. Mindy Jones  – "Almost Home"
Norah Jones – "Raining Tacos"
The Uncluded (Aesop Rock and Kimya Dawson) – "Jambi Cafe"
Jack Johnson – "Upside Down"