Beim Desert Trip Festival in Kalifornien habt ihr die einmalige Chance 6 Ikonen der Rockmusik auf einem Festival zu sehen: Bob Dylan, The Rolling Stones, Paul McCartney, The Who, Neil Young und Roger Waters werden sich zum ersten und einzigen Mal eine Bühne teilen.
Es gerüchtete ja schon eine ganze Weile, das die Macher des Coachella-Festivals einige hochkarätige Acts für ein Special-Festival verpflichtet haben. Nun ist es offiziell und seit heute gibt es auch Tickets.
Vom 7.-9. Oktober wird das Desert Trip Festival im Empire Polo Club in Indio, Kalifornien veranstaltet. Neben den Bands wird es Camping-Möglichkeiten geben, es werden diverse Sternekochs aus den besten Restaurants von New York bis LA.
UPDATE: Auf Grund der hohen Nachfrage wurde nun ein zweites Wochenende mit genau dem selben Line-Up dran gehängt. Das Festival findet nun, wie gehabt vom 7.-9. Oktober und zusätzlich vom 14.-16. Oktober statt. Es gibt also noch zusätzliche Tickets.
Und so soll die Location in der Wüste aussehen: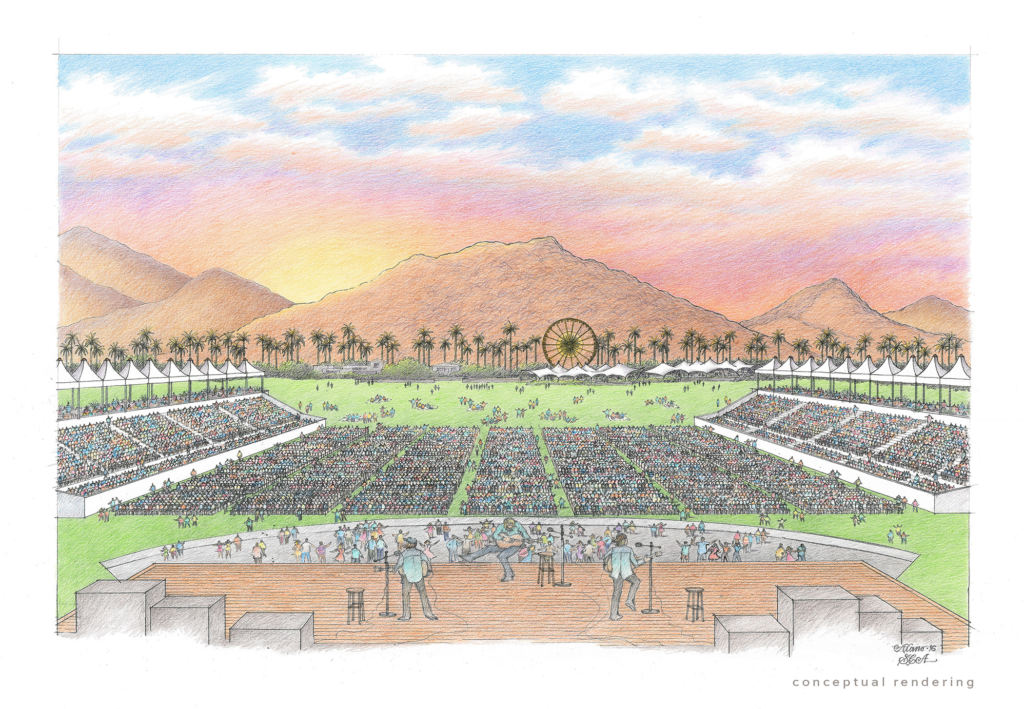 Desert Trip Tickets und Lineup
Freitag, 7.10.2016 / 14.10.2016:
The Rolling Stones
Bob Dylan & His Band
Samstag, 8.10.2016 / 15.10.2016:
Paul McCartney
Neil Young + Promise of the Real
Sonntag, 9.10.2016 / 16.10.2016:
Roger Waters
The Who
Tickets:
Die Ticketpreise haben es natürlich in sich. Nach Angaben des Rolling-Stone-Magazines zahlen die Veranstalter jedem Act 7 Millionen Dollar. Und die Kohle muss ja auch wieder reinkommen.
Das sind die Ticketpreise:
3 day passes
General admission – $399
Reserved floor – $699, $999, $1,599
Reserved grandstand – $999, $1599
Standing pit – $1,599
Single day passes
General admission – $199
Außerdem gibt es diverse Hotel-Packages, die viele Annehmlichkeiten bieten. Wer also ein paar Dollar übrig hat, klickt hier für Tickets: DesertTrip.com. Wir werden übrigens mit unserem "Common Talks"-Podcast NICHT vor Ort sein – aus Gründen …