Das Coachella Festival hat nun das Line-Up bekannt gegeben. Und das lässt auch für hiesige Festivals im Sommer tief blicken.
Das Coachella Festival 2015 findet im April in Kalifornien statt. Das Line-Up setzt sich aus den Headlinern Jack White, Drake und AC/DC zusammen. Weiterhin werden sich, unter anderem, Florence & the Machine, Tame Impala, St. Vincent, Ryan Adams, Interpol, Belle & Sebastian, Alt-J, und The Weeknd die Ehre geben. Tickets gibt es keine mehr, aber wahrscheinlich wird es sich Google auch dieses Jahr wieder nicht nehmen lassen, das Festival komplett auf YouTube zu streamen. Das komplette Line-Up könnt ihr hier einsehen: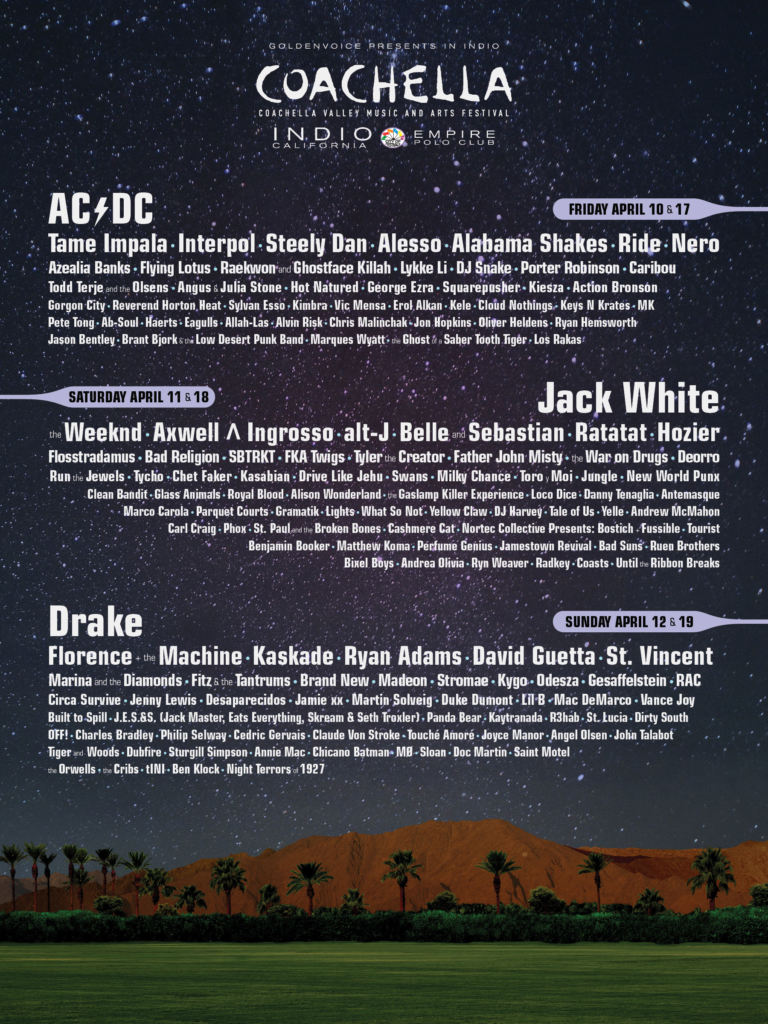 Erfahrungsgemäß kann man davon ausgehen, dass sich einige der Bands auch auf europäischen Festivals wiederfinden werden. So wird schon seit geraumer Zeit über einen Headline-Slot von AC/DC beim diesjährigen Glastonbury-Festival gemunkelt. Auch Belle & Sebastian werden sicherlich auf einigen Festivals in unseren Breiten zu sehen sein. Vielleicht sehen und hören wir ja einige sogar beim Lollapalooza im September in Berlin ?!