Nächste Woche startet die zweite Ausgabe des Lollapalooza Berlin. Und es gibt immer noch Tickets.
In gut einer Woche ist es endlich soweit: Das Lollapalooza Berlin öffnet seine Tore im Berliner Treptower Park. Mittlerweile sind wohl alle Anträge soweit durch und die Macher scheinen durchaus auf die immer noch skeptischen Anwohner einzugehen: So wurden ihnen für die Zeit des Festivals wohl Ausweichquartiere in Aussicht gestellt, ein mobiler Spielplatz wird eingerichtet und Anwohner, die sich das Spektakel vielleicht doch anschauen wollen, konnten vergünstigte Tickets kaufen. Außerdem hat der Veranstalter sehr hohe Auflagen zu erfüllen (es wurden mehrere Millionen Euro zur eventuellen Wiederherstellung des Parks hinterlegt), so dass dem Festival nun hoffentlich nichts mehr im Weg steht.
Am Samstag, dem 10. September geht es ab 11.00 mit u.a. Catfish & The Bottlemen, den Kaiser Chiefs, Tocotronic und den Kings of Leon los. Am Sonntag spielen dann u.a. Bilderbuch, Beginner, The 1975 und Radiohead.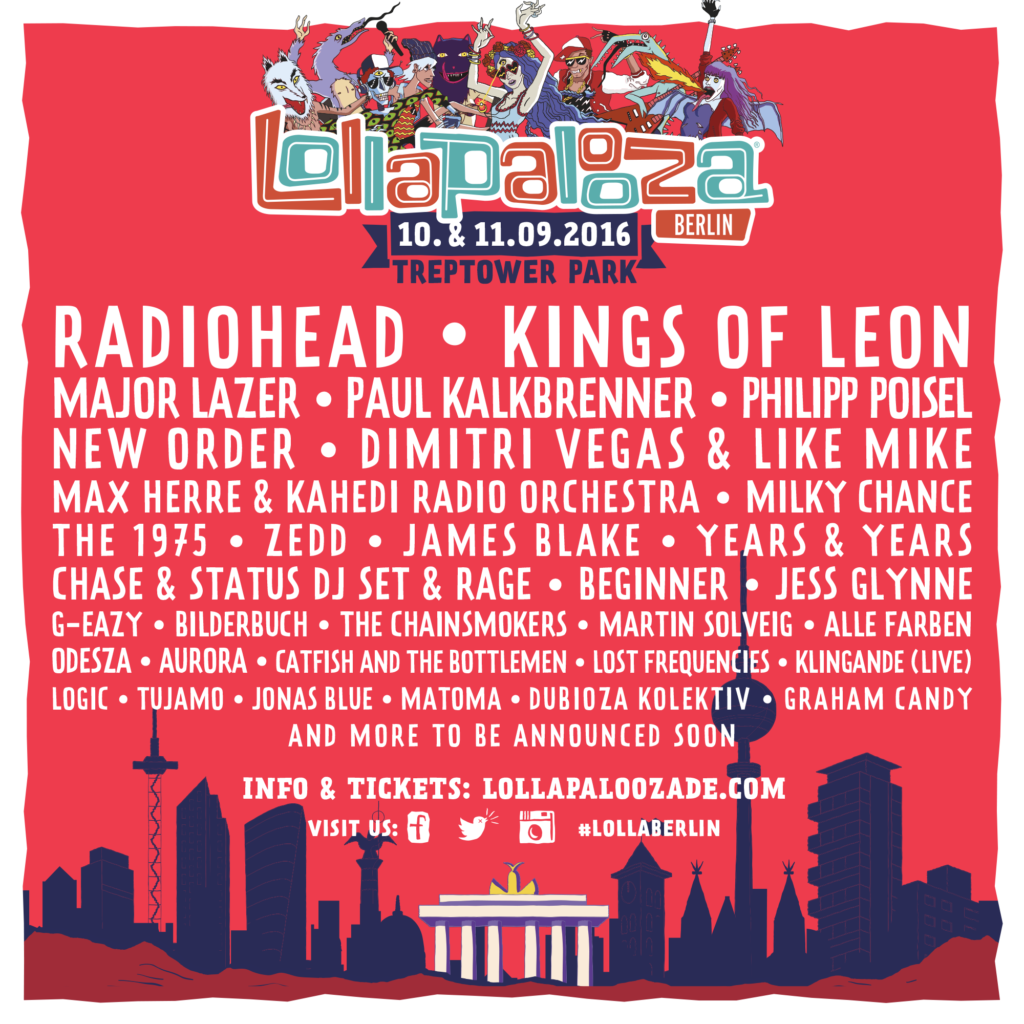 Und auch den kleinen Gästen wird einiges geboten: So spielt am Samstag z.B. die Ritter Rost-Band und am Sonntag werden einige Künstler, die auf der "Unter meinem Bett"-Reihe vertreten sind, den Kids ihre Songs präsentieren.
Weiterhin wird es Kunst, Workshops und gutes Essen geben.
Und wer am Samstag noch nicht genug getanzt hat, kann bei der Lollapalooza Club Night weitermachen.
Lollapalooza Berlin – Tickets
Die Tagestickets für Sonntag und die Tickets für Kinder sind leider schon ausverkauft. Es sind aber noch 2-Tagestickets und Tickets für den Samstag zu haben.
Wer wissen möchte, wie es im letzten Jahr war, kann ja mal in unsere Podcast-Episode dazu reinhören.
Und das hier war der Bummelkasten im Kidzapalooza letztes Jahr:
Foto: © Matías Altbach