Iggy Pop spielte im Mai ein ganz besonderes Konzert in der Londoner Royal Albert Hall. Dieses Konzert wurde auf CD und DVD gebannt und erscheint im Oktober.
"Post Pop Depression" von Iggy Pop und Josh Homme (Queens Of The Stone Age) wurde von Kritikern und Fans als sein bedeutendstes Werk seit Jahren bezeichnet. Im Rahmen der Tour zur Platte spielte er zusammen mit seiner band, bestehend aus Josh Homme, Dean Fertita und Troy Van Leeuwen von Queens Of The Stone Age, Matt Helders von den Arctic Monkeys und dem Gitarristen/ Produzenten Mike Sweeney (Skunk, Chavez, Zwan etc) am 13. Mai diesen Jahres ein viel umjubeltes Konzert in der ehrwürdigen Londoner Royal Albert Hall. Der NME beschrieb das Konzert als  "eines der erinnerungswürdigsten Konzerte des Jahres … es fühlte sich an wie der Auftritt seines Lebens".
Am 28. Oktober 2016 veröffentlicht Eagle Rock Entertainment "Post Pop Depression: Live At The Royal Albert Hall" von Iggy Pop auf DVD, Blu-ray, DVD+2CD und als Download.
Iggy Pop – "Post Pop Depression: Live At The Royal Albert Hall" Tracklist
1) Lust For Life
2) Sister Midnight
3) American Valhalla
4) Sixteen
5) In The Lobby
6) Some Weird Sin
7) Funtime
8) Tonight
9) Sunday
10) German Days
11) Mass Production
12) Nightclubbing
13) Gardenia
14) The Passenger
14) China Girl
15) Break Into Your Heart
16) Fall In Love With Me
17) Repo Man
18) Baby
19) Chocolate Drops
20) Paraguay
21) Success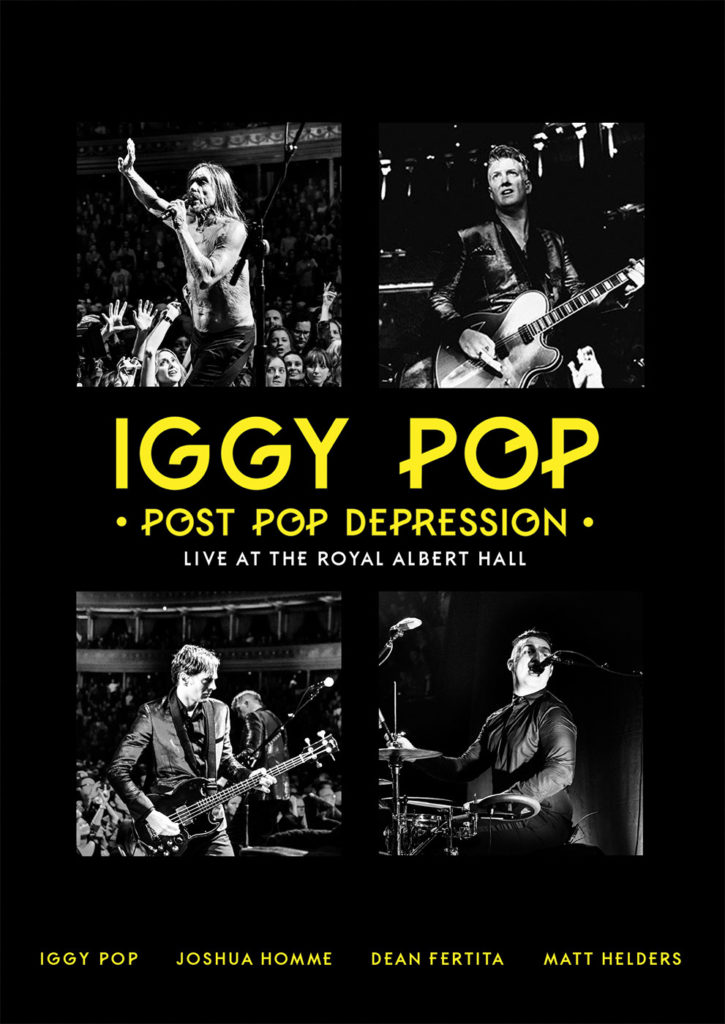 Foto: Universal Music