Die Joe Strummer Foundation legt nach. Pünktlich zum Jahresende gibt es den zweiten Teil der "Strummerville A Go Go" Compilations.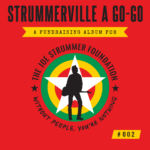 Die "Joe Strummer Foundation" hat dieses Jahr schon den ersten Teil der "Strummerville A Go Go"-Compilation veröffentlicht. Nun ist der zweite Teil da: "Strummerville A Go Go #002". Wie auch bei der ersten Ausgabe könnt ihr soviel bezahlen wie ihr wollt. Die Einnahmen gehen direkt an die Foundation, um ihre Arbeit zu finanzieren.
Die Joe Strummer Foundation konzentriert sich darauf, junge Künstler und Bands mit Proberäumen und Produktionen zu unterstützen. Aus ihrem Dunstkreis heraus entstanden so illustre Bands wie Florence & The Machine, Jamie T und viele andere britische Acts, die heute nicht mehr wegzudenken sind.
Beim Glastonbury-Festival dieses Jahr unterhielt ich mich auch mit Jamie von Strummerville über das Camp und ihre Arbeit. Ihr könnt hier nochmal reinhören.
Auf der jetzigen Compilation sind unter anderem The Barstool Preachers, Ned Dylan und The Boston Shakers zu hören. Und hier bei Bandcamp könnt ihr die Platte kaufen. Ist für ne Gute Sache !!!