Wir trafen uns im Vorfeld ihres Konzertes in Berlin, mit Totte von den Monsters of Liedermaching. Wir redeten mit ihm über die Band, über die neue Platte, über Konzerte und ein wenig über Politik.
Die Monsters of Liedermaching sind gerade in Deutschland unterwegs. Mit ihrer Tour feiern sie ihr neues Album "Wiedersehen macht Freude" und natürlich auch sich selbst. Und das mit jedem Recht. Ob große Festivalbühnen oder kleine Clubs (die mittlerweile gar nicht mehr so klein sind), die Monsters haben ihr Publikum, das "7. Monster", wie Totte es im Interview nennt, vom ersten Gitarrenakkord an fest in ihrer Hand. Es wird gesungen, getanzt, geschunkelt und getrunken.
So auch am Sonntag im Berliner Astra. Es war ein großartiges Konzert, die Band war sichtlich überrascht, dass sich an einem Sonntag-Abend so viele Leute zum Feiern einfanden. Und sie belohnten ihr Publikum mit einem Rundumschlag aus Hits und neuen Songs. Totte las sogar eine Geschichte aus seinem Buch "Mein letztes Buch". Aber wir wollen nicht zu viel spoilern, ihr solltet euch die Band auf jeden Fall ansehen, wenn sie bei euch in der Nähe ist.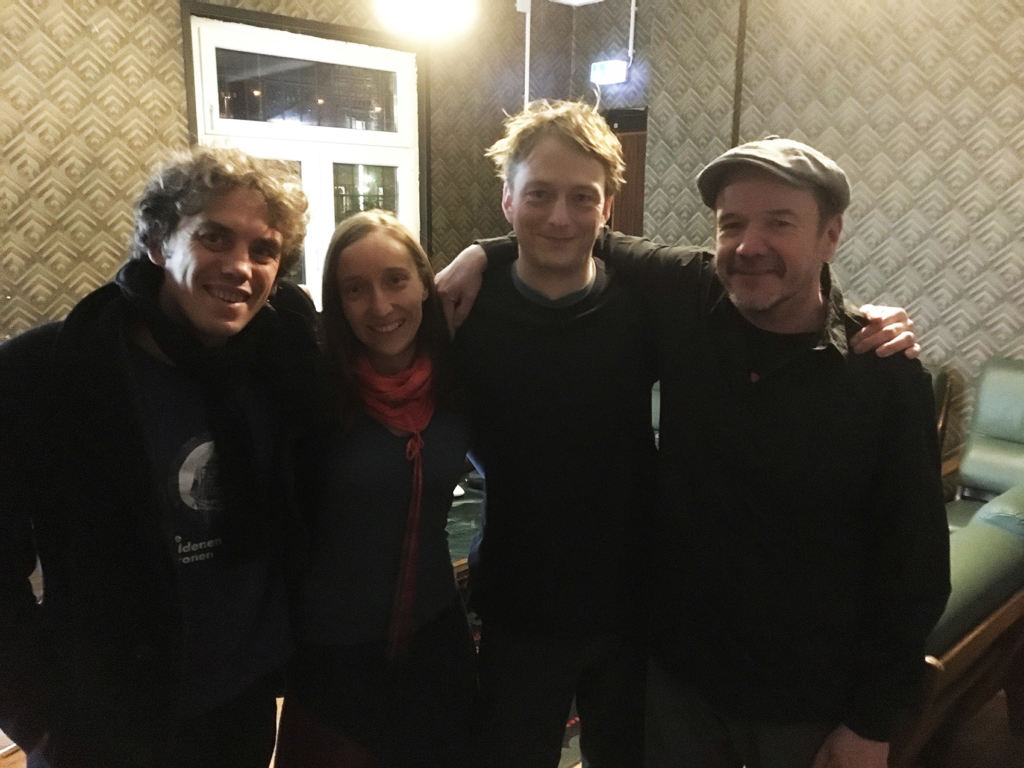 Vor dem Konzert nahm sich Totte etwas Zeit für uns und wir quatschten mit ihm, unter anderem, über die Monsters, über die Tour und darüber, was sie neben den Monsters noch so machen. Wir wünschen euch viel Spaß beim Hören. Und wenn euch diese Episode gefällt, dann hört doch mal in die anderen rein. Wir freuen uns über jeden Stern bei Itunes, jede Bewertung und jeden Like, aber auch über Feedback, per Mail oder in den Kommentaren. Und ihr könnt unseren Podcast auch gern an eure Freunde weiter verteilen :-)
Monsters of Liedermaching – "Wiedersehen macht Freude"-Tour 2016 – Teil 2 – Tourdaten und Tickets
18.11.16 Osnabrück, Rosenhof
19.11.16 Wolfsburg, Hallenbad
20.11.16 Berlin, Astra
21.11.16 Jena, F-Haus
22.11.16 Nürnberg, Hirsch
23.11.16 Fulda, KUZ Kreuz
24.11.16 Hamburg, Markthalle
25.11.16 Aschaffenburg, Colos-Saal
26.11.16 Paderborn, Kulturwerkstatt
27.11.16 Köln, Live Music Hall
Tickets gibt es z.B. hier bei Eventim oder an allen anderen Vorverkaufsstellen.