Nächste Woche gehts los: Das Glastonbury Festival 2017 öffnet am Mittwoch seine Tore. Ab Freitag stehen dann Acts wie die Foo Fighters, Ed Sheeran, Radiohead, Kate Perry, Liam Gallagher, Father John Misty, Circa Waves, Dropkick Murphys, Skinny Lister und sooooo viele andere auf dem Programm. Auch werden kleinere und größere Überraschungen erwartet. So wird, wie jedes Jahr, auch über eine Oasis-Reunion gemunkelt.
Wie jedes Jahr wird die BBC wieder große Teile des Festivals im Fernsehen und auf all ihren Radiostationen live übertragen. Auch per Internet werden die Live-Streams hör- bzw. sehbar sein. Alles, was ihr dafür benötigt ist ein VPN. Hier empfehlen wir den Tunnelbear. Mit diesem VPN klappte das Anschauen des BBC-Live-Streams im iPlayer in den letzten Jahren super. Bis zu 500MB Daten sind hier kostenlos. Das reicht natürlich nicht für die gesamte BBC-Coverage. Es ist euch überlassen, diesen VPN auszuprobieren und dann für den Rest der Zeit zu bezahlen (ist auch nicht so teuer: für knapp 7$ pro Monat könnt ihr auf 5 Geräten (auch mobilen) streamen und wenn ihr den Tunnelbear für ein Jahr bezahlt, müsst ihr nur knapp 5$ berappen) oder euch einen anderen VPN-Anbieter zu suchen. Höchstwahrscheinlich werden dann nach dem Festival diverse Mitschnitte auch bei Youtube zu sehen sein.
Hier gehts zur BBC-Glastonbury-Seite –>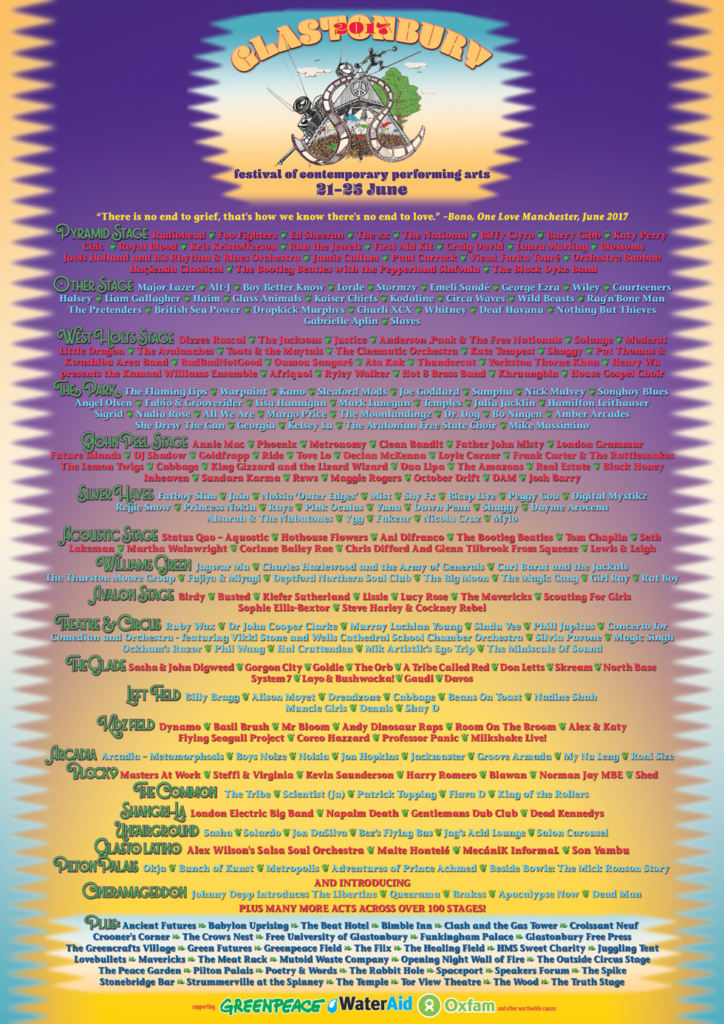 Unterdessen gab Festival-Organisatorin Emily Eavis einen kleinen Einblick darin, wieviel Geld die Bands bekommen, die beim Festival spielen: Es sind knapp 10% was sie ansonsten bei Festivals bekommen. Das Glastonbury Festival spendet so gut wie alle Einnahmen an Wohltätigkeitsorganisationen wie Greenpeace, Water Aid oder Oxfam.
"It's amazing, and it's great, and that's why we're not kind of commercial in that respect. We're not in the same bracket as everyone else when it comes to paying artists massive fees. That's another thing to consider when we get a lot of scrutiny about the line-up. Glastonbury relies completely on good will. We're not in the situation where we're able to just give people enormous amounts of money. It's probably less than 10% of what they'd get from playing any of the other major British commercial festivals."
Wenn ihr wollt, könnt ihr euch nochmal unsere "Common Talks"-Podcast Episode zum Glastonbury Festival 2015 anhören (mit vielen Interviews, u.a. mit Billy Bragg und Frank Turner).
Wenn ihr zu den Glücklichen  gehört, die in diesem Jahr dabei sein können, dann meldet euch mal bei uns und haltet uns auf dem Laufenden. Und besucht unbedingt Strummerville auf ein Bier und grüßt schön von uns …